Older Women Online Dating Advice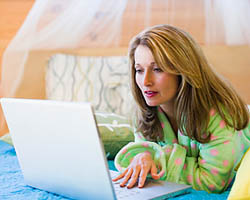 Many single women over 50 think that online dating is difficult. It doesn't have to be and can be quite fun. Remember those butterflies you had in your stomach back in the day? You can have that same feeling today. You'll be surprised to find out that very few things have changed since then. The only thing that has changed is how you meet single guys these days. Smoke filled bars are now replaced with dating sites. Finding the man of your dreams is as easy as pointing and clicking. Finding love couldn't be more easy or simple. Here we are going to give you some tips that will make your dating experience one that you'll enjoy.
Be patient and don't expect immediate replies to your messages
We do live in a fast paced world where everything is expected to be delivered lightning fast. A guy may not be ignoring your messages if he doesn't reply shortly after you send them. He very well may be busy and hasn't read it yet. Don't be surprised if the guy you're sending messages to takes more than a few days to reply. It can even be common for a response to come even three or four days after your initial message. This can be especially true on weekends or during holidays.
Make sure every message you send is customized
There may be several guys that you want to send messages to on a dating site. What you don't want to do is write one message and send it to all of them. This isn't a good idea and a message like this can sound like email spam. This is why you're going to want to make sure every message is customized to the person that you want to talk to. You'll also have a higher success rate of hearing back from the guys by doing this. People like it when someone takes the time out to get to know about them. They'll know if you're cutting corners and being lazy. Take a few minutes out and type a message and make sure to include some information that you read in their profiles.
Always remember that you never get a second chance to make a first impression
You should always read and spell check any messages that you will send. This is especially true for the first message that you send to a guy. Too many spelling errors will ensure that the guy doesn't even read it completely. They'll see you as someone that's not taking online dating seriously. You don't have to write perfect messages like an English teacher would. Though, you could run your messages through a spell checker. It's also a good idea to read your messages before sending them. This is the best way to ensure that your messages will say exactly what you mean them to.
Finding love online doesn't have to be difficult. The entire process can actually be a lot of fun. It'll give you the chance to get to know people in your area. There's nothing better than making new friends. You never know, one of those friends may end up being the man of your dreams.